James Beattie work found in Sir Walter Scott's library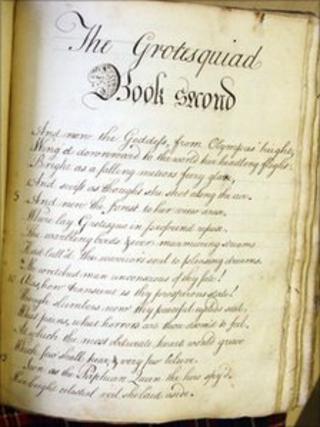 A "significant" 9,000-word poem by Scottish scholar James Beattie has been discovered in Sir Walter Scott's library in the Scottish Borders.
The Grotesquiad is the latest in a series of finds at Abbotsford House during online cataloguing by the Faculty of Advocates.
Scottish literature lecturer Dr Rhona Brown said the discovery was "exhilarating for many reasons".
She said it showed the "wealth and worth" of Scott's library.
James Beattie was born in 1735 at Laurencekirk in the north east of Scotland.
The son of a farmer, he became professor of moral philosophy at Aberdeen University and was a strong opponent of slavery.
He is also regarded as a strong influence on William Wordsworth.
The Grotesquiad, Beattie's poem in four volumes, is gaining increased recognition among literary scholars.
Dr Brown, of the University of Glasgow, said the discovery was an "important milestone" in studies of 18th century Scottish literature.
The poem follows the fate of Grotesquo, a brave "warrior" who models himself on Don Quixote but suffers from humiliation and misfortune due to the "dire effects of drink, that fatal spring of great Grotesquo's woes".
The long-lost Beattie poem is the latest in a series of discoveries by Lindsay Levy, the faculty's rare books librarian, who is cataloguing the 9,000-volume library at Abbotsford.
'Frequent challenges'
These have included a 550-year-old manuscript, rare works by Robert Burns and a medieval German text first published in 1517.
"Finding a book or a manuscript without an author has become one of the frequent challenges in cataloguing Abbotsford library," Ms Levy said.
"This time the suggestion that the anonymous text might be important came from a reference in a 'Googled' biography that mentioned the strange title 'The Grotesquiad' in a way that suggested it had been lost by the author.
"I am delighted that Dr Rhona Brown has been able to re-unite him with his work, and wonder how much more lost property will turn up at Abbotsford before the cataloguing project is complete."