Dumfries and Galloway police force cut impact monitored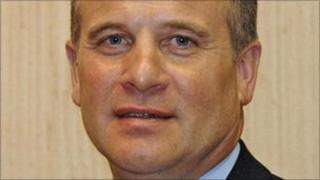 The impact of a 10% reduction in police support posts in Dumfries and Galloway is being monitored, the region's chief constable Pat Shearer has said.
Scotland's smallest force has just published its annual report which showed the lowest crime rate in the UK.
However, concerns have been raised about the ability of the constabulary to sustain that performance.
It follows the loss of 30 civilian staff through early retirement as part of a wider savings programme.
Chief Constable Shearer said it was important not to lose sight of the overall level of funding still available to different public agencies in the region.
He added: "Every other element of the public sector is having to cope with reduced budgets.
"We have almost £1bn coming into this area to deliver the public service.
"There is a lot we do with that, and I believe there is a lot more we can do with that."
Mr Shearer went on to say that it was also important to carefully monitor the impact of any reduction in personnel.
He said: "Every one of our staff members who left our organisation in the last two or three months under voluntary redundancy or retirement contributed significantly to the performance.
"We are continually assessing to understand the impact of that reduced resource."