Kirkcudbright couple miss Chelsea Flower Show honour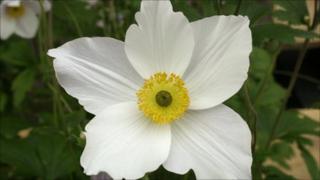 High winds and volcanic ash stopped a Scottish couple seeing the anemone they spent 10 years propagating win plant of the year at Chelsea Flower Show.
Elizabeth and Alasdair MacGregor, of Kirkcudbright, hoped to see the anemone Wild Swan triumph first hand.
However, their train from Carlisle was cancelled due to high winds and the ash cloud stopped alternative flights.
Mrs MacGregor said they were still "delighted" with the win and thanked the people who had exhibited for them.
The couple, who run a plant nursery, spotted the anemone in a batch of seedlings a decade ago and began the painstaking process of propagating it.
It was being exhibited at Chelsea on their behalf by Hardy's Cottage Garden Plants.
Scottish exhibition
The anemone received the ultimate accolade for plant growers, but weather conditions meant the couple could not attend the awards ceremony.
"We drove to Carlisle to catch the midnight sleeper but it had been cancelled because of the gales and all flights were off because of the ash cloud," said Mrs MacGregor.
"But despite missing out on the ceremony we are delighted that our plant has won and we are grateful to Rose Hardy for exhibiting it so well."
Scottish gardeners will get the chance to see the prize winner for themselves next month.
It will be among the exhibits when Gardening Scotland 2011 opens at The Royal Highland Centre in Edinburgh on 3 June.