Chapelcross nuclear plant closure support scheme starts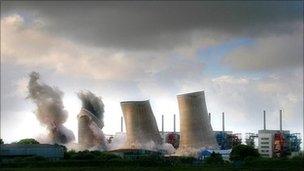 A £1.2m project has been launched to help offset the economic impact of the closure of the Chapelcross nuclear plant in Dumfries and Galloway.
Hundreds of jobs will have gone by the time the decommissioning of the site is completed in 2017.
The investment package is earmarked to support and stimulate businesses in the surrounding areas.
The project is being financed by the Nuclear Decommissioning Authority through its social economic fund.
The Beyond Chapelcross scheme will be delivered by Magnox Ltd, Chapelcross in partnership with the economic development department of Dumfries and Galloway Council.
It hopes to stimulate business in the Gretna, Lockerbie and Annan areas, unlock town regeneration funds and "mitigate the loss of approximately 300 skilled jobs over the next five years".
DGC planning committee chairman Roger Grant said the funds would help "sustain and develop small businesses and communities" in the area.
Chapelcross site director John Grierson added that the plant had been estimated to contribute about £30m-a-year to the local economy.
He said that meant it was obvious there would be a "detrimental impact" from its closure without measures like the Beyond Chapelcross scheme.
Dumfriesshire MP David Mundell, who chairs the Corridor Regeneration Steering Group which announced the funding, welcomed the investment.
"A lot of time and effort has gone into securing these funds and now we need to make the most of them," he said.
He said he hoped the new posts created as part of the project could develop the "economic potential of the Lockerbie, Annan and Gretna area" and also help to "ensure vibrant town centres".
The Chapelcross nuclear plant was built in 1959 and ceased generation in 2004.
About 2,000 people were employed during its construction and it provided hundreds of jobs for the area during its working life.
In 2007 its landmark cooling towers were demolished and a year later formal permission was received to start the lengthy process of defuelling its four reactors.
Total decommissioning costs at Chapelcross are estimated at about £800m.
Related Internet Links
The BBC is not responsible for the content of external sites.