Dumfries traffic congestion options tabled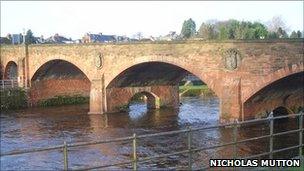 A series of options for tackling traffic congestion in southern Dumfries is to go out to public consultation.
The proposals range from minor works costing several thousand pounds to a new road link priced at £18m.
The projects are all designed to help ease the pressure on key routes to and from Dumfries Infirmary and the Crichton campus.
The options have been developed by a working group of transport officials and councillors.
Nine of the 16 proposals involve altering existing roads to create additional lanes and improve traffic flow.
They range in price from £4,500 to £58,000.
The options include widening St Michael Street to accommodate two new lanes and sacrificing one of the pedestrian footways on St Michael's Bridge to create another additional carriageway.
The remaining proposals focus on the possible development of a new access road.
The cheapest, at £3m, would see the creation of short link from the Old Craigs Road at Georgetown, skirting around the Crichton Golf Club and on to the Bankend Road.
The most expensive, at £18m, would involve the construction of part of a southern by-pass which would give access to the hospital and Crichton campus from both New Abbey Road and Georgetown.
The public consultation will be launched later this week.
Related Internet Links
The BBC is not responsible for the content of external sites.