Dumfries and Galloway MP and police in sectarian debate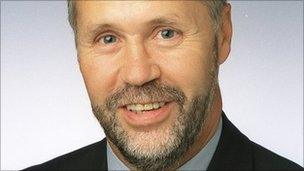 Dumfries and Galloway MP Russell Brown is to meet the region's chief constable to discuss concerns about a rise in sectarian offences in the region.
He said he wanted to offer his "full support" in tackling the issue.
Last week Dumfries and Galloway Constabulary highlighted an increase in the number of crimes aggravated by religious prejudice.
Mr Brown will meet Chief Constable Pat Shearer to discuss the best ways of addressing the situation.
"Sectarianism has no place in Dumfries and Galloway," said Mr Brown.
"It brings shame on our region and we must be clear we won't stand for it."
He said such crimes were on the rise across the country and south west Scotland was no exception.
"It's a complex problem with no quick fixes that the whole of Scotland is grappling with," he said.
"But let me be clear - the vast majority of local people are shocked by these incidents and we won't put up with sectarianism here on our doorsteps.
"We're a tight-knit community here in Dumfries and Galloway and I'm confident we'll stamp this out."
Related Internet Links
The BBC is not responsible for the content of external sites.