Fallago Rig wind farm opponents admit defeat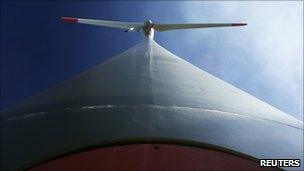 Opponents of a wind farm on the Lammermuir Hills have admitted defeat after a six-year campaign.
It follows a Court of Session ruling last week which rejected their bid to force a judicial review of approval for the 48-turbine Fallago Rig project.
Mark Rowley of the Say No To Fallago action group said: "It is the end of the line."
Developers North British Windpower said opponents had "every conceivable opportunity" to make their case.
Last week, judge Lord McEwan ruled out the possibility of overturning permission for the project.
He found no evidence a public inquiry into the plans had been biased and said that protesters had played an active part in the hearing.
Author Richard Havers, who lives in a remote part of the Lammermuirs and opposed the scheme, said: "It is difficult to see where the protest can go from here.
"I think the request for a judicial review was the last throw of the dice in the hope that some common sense could be struck to prevent 100,000 tonnes of concrete being poured into the ground of the Lammermuirs but it seems it was not to be.
"I, like so many people in this area, am very disappointed with the outcome."
A spokesman for North British Windpower said opponents had had ample opportunity to have their say during the inquiry process.
Preparatory work is already under way on the project which is expected to provide enough energy to power about 90,000 homes once complete.
Related Internet Links
The BBC is not responsible for the content of external sites.