Dumfries football pitch site verdict questioned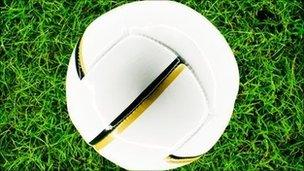 The selection of a preferred site for a new third generation (3G) sports pitch in Dumfries has been called into question by a rival bid.
Councillors have earmarked Maxwelltown High School - in partnership with Queen of the South FC - for the facility.
Heston Rovers chairman Scott McGill, who wants the pitch at St Joseph's College, said it was the wrong option.
However, Councillor David McKie said the site selected would be good for the community and boost the area's image.
A sum of £600,000 has been made available under the Cashback for Communities programme using money seized from criminals.
It will allow one pitch to be built in Dumfries with Stranraer and Annan vying for a second facility.
The Nithsdale Area Committee met this week to consider three possible sites for the Dumfries development.
After two rounds of voting it went for the Maxwelltown High School plan, backed by the town's First Division football team.
Mr McGill said that was the wrong selection.
He added: "I am delighted that there is a 3G coming to the town but Maxwelltown High School - if that is ratified as the final decision, which is likely - is a poor choice in my opinion.
Mr McGill said he was pleased with the partnership with Queen of the South but said the club did not cater for children under 12 or girls and was not a Scottish FA quality mark club.
"At Heston Rovers we tick all of the boxes, we are a genuine grassroots football club," he said.
Mr McKie defended the selection of the site and said it could help combat negative perceptions of the Lochside area where it would be located.
He said: "It is not the pits as a lot of people seem to think.
"It is a good area, it's a good part of Dumfries and we encourage other people to come and see it, see what's going on and use the facilities there.
"If we can maximise the other facilities in Maxwelltown High School it's better for everybody."
The third bid was from Greystone Rovers for a site at Dumfries High School.
Chairman Graham Muir said that no matter what the location, the facility would be a welcome addition to the town.
He said: "I have no problem with where the recommendation for the site is, in an area of deprivation.
"I have some personal experience of working in that area so I also welcome that site."
Final approval for the pitch location will not be made by the council until later this month.
The recommended option still has to be agreed by the authority's policy and resources committee.
Related Internet Links
The BBC is not responsible for the content of external sites.