Cyclist and runner in Scotland 'hare and tortoise' race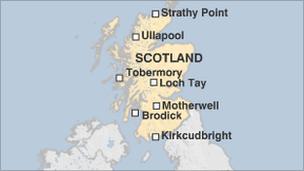 A cyclist and a runner have begun a charity race from the south to the north of Scotland via different routes.
Former soldier Christopher Godfrey-Faussett, from the Borders, has set off on foot from Kirkcudbright on a line right up the middle of the country.
Fellow Edinburgh investment manager John Gunn aims to beat him on his bike on a coastal route to Strathy Point.
The Mad HaT (Hare and Tortoise) challenge is to raise funds for three different charities.
The idea started by drawing a line down the middle of the country at four degrees west of longitude.
It produced a straight route of more than 300 miles from Kirkcudbright on the Solway Firth to Strathy Point between Cape Wrath and Duncansby Head.
Mr Godfrey-Faussett said he quickly realised there would be few roads for him to use resulting in a "pure cross-country run".
He has allowed himself up to 500 metres "leeway" to avoid any major obstacles on his route.
"Within this zone I have to climb every mountain and hill that rises in front of me, and cross every river, loch or firth that I encounter," he said.
The 47-year-old is aiming to run more than 30 miles a day to complete the challenge in nine days.
His route takes him through only a handful of sizeable towns like Motherwell, Airdrie and Coatbridge as well as across Loch Tay.
He will use a canoe to cross some of the deeper stretches of water he encounters.
Meanwhile, Mr Gunn, originally from Caithness, will be trying to beat him to their final destination by cycling up the west coast of Scotland.
His route is about 750 miles long with an average of more than 80 miles a day.
It takes him via Brodick, Tobermory and Ullapool before reaching his final destination.
The pair have already raised several thousand pounds for charity with their challenge.
The money will be shared between The King's Royal Hussars Appeal, Prostate Cancer Scotland and The Borders Children's Charity.
Related Internet Links
The BBC is not responsible for the content of external sites.