Galashiels takeaway delivery robber jailed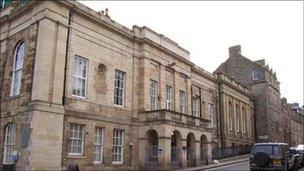 A drug addict who assaulted and robbed a takeaway delivery man in the Borders has been jailed for three years.
John Chapman, 20, committed the offence at Church Square in Galashiels in February to fund his heroin habit.
Jedburgh Sheriff Court heard how he struck his victim twice with a metal pole he had hidden in his clothing.
Sentence was backdated to 10 February, with a 12-month supervised release order imposed on Chapman when he is freed from prison.
He appeared on indictment and admitted the assault and robbery on 8 February this year and offending while on bail.
Sheriff Donald Corke told him it was not an opportunistic crime, as he had told others he was going to rob someone and then gone out "tooled up".
Related Internet Links
The BBC is not responsible for the content of external sites.