Dumfries and Galloway fire service faces hefty pay cost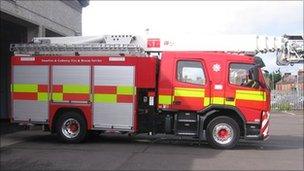 Dumfries and Galloway Fire and Rescue Service is facing a bill of up to £160,000 to meet compensation payments to its retained staff.
It follows a ruling by an employment tribunal on the terms and conditions of part-time firefighters.
The compensation payments were set on the back of two test cases lodged in England more than a decade ago.
DGFRS has warned it has no budget to meet the costs and will have to dip into its financial reserves.
The Fire Brigades Union argued that part-time staff were receiving less favourable terms and conditions than their full-time colleagues despite doing the same duties.
That stance was eventually upheld by an employment tribunal after a lengthy legal process which at one point reached the House of Lords.
A negotiated settlement between the employers and the union has now been agreed.
It will see compensation payments - backdated to July 2000 - made to all eligible retained staff.
In Dumfries and Galloway, it is estimated it will cost the fire and rescue service about £160,000.
However, a report to councillors said the brigade did not have the resources available to meet the costs.
Related Internet Links
The BBC is not responsible for the content of external sites.