Dumfries hospital bed cut impact assessed by NHS board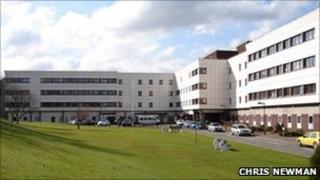 A health board has admitted there is still no clear indication of the overall staffing implications of plans to close 24 beds at Dumfries Infirmary.
NHS Dumfries and Galloway chief operating officer Jeff Ace said he accepted the move had caused anxiety.
There will be no enforced job cuts but vacant posts will not be filled and workers affected could be redeployed to other parts of the hospital.
Mr Ace said he would work closely with staff as the plans moved forward.
Wards four, five, 12 and 14 could all be affected by the proposed redesign, which it has been estimated would produce savings of almost £750,000.
Mr Ace said he accepted there was real anxiety about the changes, expected to be made in autumn.
"The NHS board, in common with the rest of Scotland, has a policy of guaranteed no redundancy and no detriment so that organisational change won't affect staff pay and conditions," he said.
"But that is only one side of the coin.
"Clearly people are concerned that they are given the chance to use their skills in the right environment and with appropriate patient groups."
He said they would be looking for a "match of skills" between individuals and the roles available.
He said a clearer picture of the reorganisation and staffing requirements would hopefully emerge by the end of June.