Borders to Edinburgh railway on track despite drop-out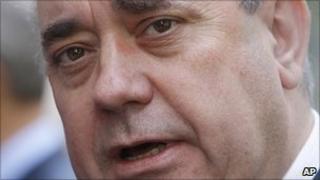 First Minister Alex Salmond has said the Borders to Edinburgh rail scheme will go ahead despite the drop-out of a firm bidding to build it.
Construction company Carillion has confirmed it has abandoned one of the bids for the scheme.
However, Mr Salmond said changes to consortia during the procurement process were "not uncommon".
It is hoped the 35-mile line from Edinburgh to Tweedbank in the Scottish Borders can reopen in 2014.
"The Borders railway will go ahead," Mr Salmond told the Scottish Parliament.
He also cited the case of the M74 extension contract which had been secured by a single bidder and was completed ahead of time and under budget.
There have been a number of issues raised during the bidding process for the Borders railway project.
Last year there were concerns after American firm Fluor had dropped out of one consortium.
Then, earlier this year, an application to extend the deadline to buy the land needed to develop the railway prompted fears the project could be delayed.
On both occasions, Transport Scotland said it remained confident of keeping the scheme on track.
A spokesman said it remained confident of progress even if only one bidder remained.
"We have successfully delivered single tender projects before - the M74 which is due to open later this month ahead of time and under budget clearly demonstrates our ability to deliver," he said.
"We will now consider our options to determine the best way to proceed to deliver the project for the best value and in the shortest possible time."
Borders Tory MSP John Lamont said the latest development was "very worrying news" and could lead to the cost of the project increasing.
"Many local residents have expressed concerns to me about the viability of this project and fear that it is taking resources away from other public transport, like investment in roads and bus services," he said.
"The news that another contractor is considering withdrawing must suggest that the bidders have concerns about the viability of the Borders railway too."