Dumfries joins Diamond Jubilee city status bids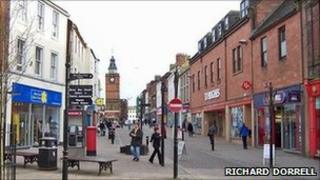 Dumfries has emerged as a second Scottish contender to secure city status to mark the Queen's Diamond Jubilee next year.
Perth had already confirmed its bid to the UK government to become Scotland's seventh city.
Now the south of Scotland town has joined the list of 26 total contenders from across the United Kingdom.
Cabinet Office Minister Mark Harper confirmed it was among the applications submitted before a deadline on 27 May.
Dumfries, known as the Queen of the South, submitted a similar bid 10 years ago for the Queen's Golden Jubilee.
That honour ultimately went to Stirling.
Inverness became Scotland's fifth city after winning a competition as part of the Millennium celebrations.
The other four are Aberdeen, Dundee, Edinburgh and Glasgow.
The winner of the Diamond Jubilee competition is expected to be announced early in 2012.