Sir Walter Scott Abbotsford works begin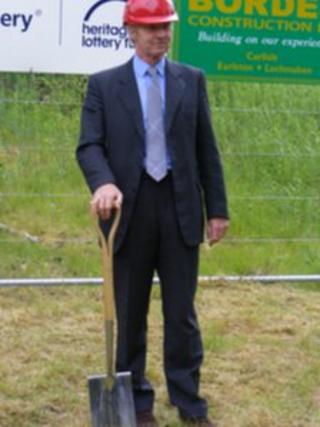 Building work has started on a new visitor reception building at Sir Walter Scott's historic Abbotsford home near Melrose.
It is the first stage in the £10m regeneration of the famous property in the Scottish Borders.
The Duke of Buccleuch, a patron of the Abbotsford Trust, cut the first sod on the site of the new building.
It is only part of the project to transform Abbotsford into a world-class visitor attraction.
The aim is to protect Scott's legacy for future generations.
Major funders for the scheme include the Heritage Lottery Fund, the Scottish government, Historic Scotland, Scottish Borders Council and Scottish Enterprise.
A number of private individuals and charitable trusts have also contributed to the project.
The new building will contain a visitor interpretation area demonstrating Scott's importance on the world stage as well as a shop and restaurant.
There is an ambitious timescale as the centre is scheduled to open next spring.
The main house at Abbotsford will close at the end of this year's summer visitor season on 16 September.
This is to allow extensive repairs to the fabric of the building, the development of a new visitor accommodation wing, new education facilities and improved visitor access.
It is scheduled to re-open in 2013.