Dumfries Diamond Jubilee city status bid ruled invalid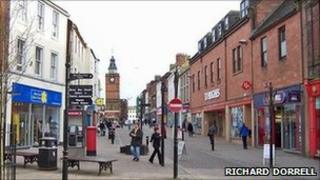 A bid to secure city status for Dumfries has been dropped from a competition after it emerged it was not submitted by the local council.
The town was initially named as being one of 26 applications submitted before a deadline on 27 May.
However, one of the criteria for bids is that they have to come from the local authority.
Dumfries and Galloway Council said it had not submitted the application for the Queen's Diamond Jubilee honour.
A council spokesman said it appeared the bid had actually been submitted by a local action group and magazine.
He said the organisations had met with the local authority for discussions but had been advised not to put in an application.
It was not until the council started receiving press inquiries following a ministerial statement that the submission of the bid came to light.
The authority subsequently advised the Cabinet Office that the application had not come from them.
It has now been confirmed it will "not be considered further as part of the competition".
The situation leaves Perth as the only Scottish applicant in the process.
If successful it would join Stirling, Inverness, Aberdeen, Dundee, Edinburgh and Glasgow in enjoying city status.
The winner of the Diamond Jubilee competition is expected to be announced early in 2012.