Andrea Levy wins Walter Scott Prize for The Long Song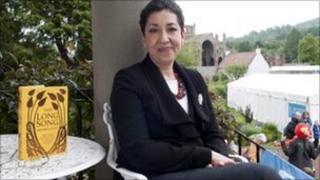 The second Walter Scott Prize for historical fiction has been awarded to Andrea Levy for her slavery novel The Long Song.
The £25,000 prize was awarded at one of Scotland's top literary events, the Borders Book Festival in Melrose.
The author accepted the award from the Duke of Buccleuch, sponsor of the prize, at a ceremony hosted by festival patron Rory Bremner.
Extracts from the six shortlisted books were read by actor Robert Powell.
Ms Levy said she was honoured to receive the "generous literary prize" for an "important aspect of the role of fiction".
"Fiction can, and must, step in where historians cannot go because of the rigour of their discipline," she said.
"Fiction can breathe life into our lost or forgotten histories.
"My subject matter has always been key to what and why I write - the shared history of Britain and those Caribbean islands of my heritage.
"So lastly I would like to remember all those once-enslaved people of the Caribbean who helped to make us all what we are today."
'Imaginative depth'
The judges said the winning book was a "celebration of the triumphant human spirit in times of great adversity".
"Andrea Levy brings to this story such personal understanding and imaginative depth that her characters leap from the page, with all the resilience, humour and complexity of real people," they said.
The award ceremony was held in the gardens of Harmony House, which was built by a nineteenth-century Melrose joiner who named it after the Jamaican pimento plantation where he made his fortune.
The prize, one of the five most valuable literary awards in the UK, is sponsored by the Duke and Duchess of Buccleuch who have family links to Sir Walter Scott.
Last year the prize was awarded to author Hilary Mantel for her novel Wolf Hall.
Other authors taking part in the four-day festival include Sarah Brown, the wife of ex-prime minister Gordon Brown, Larry Lamb, Maureen Lipman, Rory Bremner, Michael Parkinson, Peter Snow and Rory McGrath.