Dumfries 'learning town' vision examined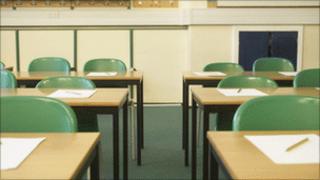 Education plans that could eventually lead to the creation of a new single secondary school for S4 to S6 pupils in Dumfries are being discussed.
It is just one element of far-reaching "learning town" proposals being put before parents at a forum in the town.
Director of education Colin Grant said it was important to consider being "more flexible" with school structures.
He stressed it was the start of an "informal discussion" with parents about the "big picture of education".
Dumfries and Galloway Council is one of a number of authorities considering the new model for secondary schools.
If the proposals were taken forward it could become the first town in Scotland to use such a structure.
Dumfries is currently served by four secondary sites - Dumfries Academy, Dumfries High School, Maxwelltown High School and St Joseph's College.
Mr Grant said there could be a case for keeping those schools but adding a new purpose-built facility serving 15 to 18-year-olds providing "more and better opportunities".
Previous reviews have considered closing some of the town's secondaries, provoking widespread opposition.
Instead, Mr Grant said the new option could preserve the smaller scale schools that parents liked.
The idea behind the latest proposal is to take advantage of other educational opportunities in the town - particularly the further and higher education available at the Crichton site.
"We feel that there might be an opportunity to create wider, bigger and better opportunities for S4 to S6 if we collaborate fully with other educational partners on our doorstep," said Mr Grant.
"That is clearly the college and the university but also local businesses."
He said there was no clear view at the moment where any new school might be built.
However, he said he was happy for Dumfries to be leading the way in looking at new educational patterns.
"One of the issues for me is that we should be prepared to be innovative and that we should have this raised ambition and we should not be frightened perhaps to break some moulds," he said.
"We think that somewhere in the country at some stage people will begin to consider whether having separate primary, secondary, college and university is the best for that locality.
"We would like to be first to consider some of those big issues."
The next step would be to start a formal consultation process and take the matter to the council's education committee if it is decided to take the scheme forward.