Scottish Borders youth unemployment summit staged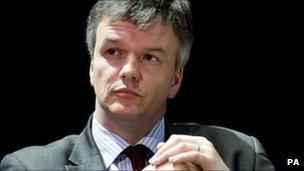 Scottish Secretary Michael Moore is visiting Hawick to discuss how to tackle rising youth unemployment.
A special seminar in the town is being attended by employers and politicians, as well as representatives of Hawick High School and Borders College.
Youth unemployment has tripled in the region in the last four years.
Mr Moore said the situation was "getting worse" for a number of reasons and he was keen to see measures taken to try to address the situation.
He said he wanted to tackle the "underlying causes".
"There is a challenge for the economy as a whole - I am not going to play that down at all - we have had a very choppy time in the last year after a very, very difficult time," he said.
"But people are recruiting and there are jobs available.
"We have got to make sure we are equipping people with the skills so that they can take them on."
He said he accepted the government's "number one job" was to get the economy in a position where there were more jobs.
He added: "But why is youth unemployment more of an issue than for some other parts of the population? We have got to get to the bottom of that.
"Just standing back and saying nothing about it is not an option."