Bathing waters meet standards despite wet weather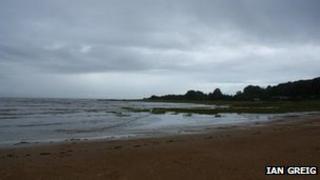 Most of Scotland's bathing waters have met European standards this summer despite the wet weather.
Latest results show that 95% achieved "mandatory" quality or better during the season, which has just ended.
Four sites failed - Lossiemouth East in Moray, Sandyhills in Dumfries and Galloway, Irvine in Ayrshire and Eyemouth in the Scottish Borders.
Almost half of Scotland's 83 official bathing waters met the more stringent "guideline" standard for water quality.
The monitoring results were released by the Scottish Environment Protection Agency (Sepa) and cover the 107 days from 1 June to 15 September.
Sepa monitors the quality of bathing waters, including the sea, inland lochs and rivers.
To qualify, a site must be one where a large number of people are expected to bathe and permanent advice against bathing has not been issued.
Sepa said it was widely accepted that Scotland's changeable weather patterns and heavy summer rain could have a detrimental impact on water quality, which could be affected by agricultural run-off and overflows from drains.
Environmental quality manager Calum McPhail said: "Whilst it is always disappointing to see any failed water quality sample, this season's success stories should also be celebrated.
"Monifeith, which was a new location added this year after being put forward for designation with strong local community support, achieved a clear guideline status.
"Also Ettrick Bay on Bute, for years one of our worst-performing bathing waters, comfortably passed and indeed was only two results short of meeting the more stringent guideline standard."
'Valuable income'
This year Sepa expanded the daily prediction and signage system with 12 new beach message signs and the launch of a trial smartphone app.
Environment Minister Stewart Stevenson said: "Good water quality is important for our bathing waters.
"Clean, safe beaches are essential to tourism and the leisure pursuits of the people of Scotland, which provide valuable income to many seaside communities.
"It is good to see our world-leading electronic message signs continue to provide accurate information, to beach users, on the quality of the bathing water."