dgArts' work should carry on, says MSP Alex Fergusson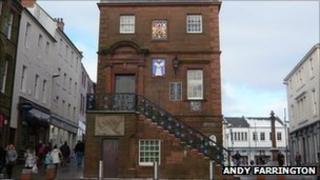 Galloway and West Dumfries MSP Alex Fergusson has said the work of an arts group that has ceased trading should not be allowed to "sink without trace".
It follows an announcement by the board of dgArts that it would be meeting to appoint a liquidator.
Mr Fergusson said the decision had been taken "in light of the realistic economic facts that faced them".
He said he was concerned by the "potential consequences" but hoped the group's work could be carried on.
The board of dgArts - formerly Dumfries and Galloway Arts Association - made the announcement on Friday.
It is in the process of starting the procedure to wind up the company which is based in Dumfries with an office in the town's Midsteeple.
Mr Fergusson said it was a serious blow to the region.
"Arts and culture in Dumfries and Galloway have grown out of all proportion over the last decade and now represent a very important strand of the region's economic development," he said.
He called for an effort to be made "to ensure that a phoenix rises from these particular ashes".
"That is work in which all those who have an interest in the future cultural and economic wellbeing of this region will want to play a full part," he added.