Star of Caledonia artists host Scottish identity debate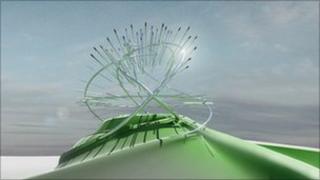 Two artists behind a landmark sculpture planned for the Scotland-England border at Gretna have lead a debate on Scotland and its identity.
The Star of Caledonia, by Cecil Balmond, was chosen as the winning design for the Border Crossing project.
International landscape artist Charles Jenks is working alongside Mr Balmond to develop the star-burst sculpture.
The two men took part in a lecture at the Scottish National Gallery in Edinburgh.
The flagship landmark will have a potential audience of 10 million people crossing the Scotland-England border at Gretna every year.
It is hoped the design can be put in place in time for the Commonwealth Games in 2014.
Landmark recipe
The aim is that it will become as iconic as the Angel of the North at Gateshead.
The project's creative director, Jan Hogarth, said: "The lecture is really hovering above the project. It is looking at the project and how it relates to other landmarks in the world, and how to develop a recipe for the perfect landmark.
"We felt it was important to have this kind of debate happening in Scotland.
"Edinburgh seemed like a really appropriate place because the project is not just a regional project. The development of the landmark is an international project and we want to engage as many people as possible into the thinking behind it."