Boy racer link to hospital Nitrous Oxide thefts probed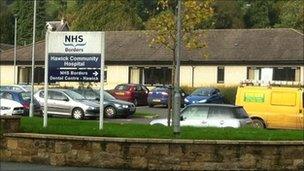 Police in the Borders are investigating the possibility that boy racers may have been behind a spate of thefts and attempted thefts of Nitrous Oxide.
Canisters of the so-called "laughing gas" were stolen after break-ins at two Borders hospitals earlier this week.
There have been similar incidents in Aberdeen and Dundee.
The gas can be used to increase the power output of car engines. Police said they were keeping an open mind but were considering a link to boy racers.
Nitrous Oxide is an anaesthetic normally found in hospitals and dentists.
On Thursday Hawick Community Hospital's dental department was broken into at about 02:10.
Later, Borders General Hospital discovered a storage area had been broken into and a number of canisters of the gas had been stolen.
At the start of the month, two cylinders were stolen from a hospital in Dundee.
The next day there was a theft from a hospital in Aberdeen.
Insp Brian MacFarlane, from Lothian and Borders Police, said: "We are very much keeping an open mind.
"There are two main uses that we can see at the moment. One is linked to cars where drivers fit them to their engines to to increase the output power of the vehicle.
"Another is a possible use by illicit drug users where they use the gas to give themselves an illegal high."
Police have also warned members of the public of the dangers of inhaling the gas, stressing that it can render someone unconscious very quickly.
Insp MacFarlane added: "If the public come across any canisters that are clearly marked up either Nitrous Oxide or Entonox, which is another gas we are targeting, then do not touch them.
"Immediately contact your local police station and we will deal with them.
"Stay away from them but do report it to the police."
Officers in the borders were keen to trace the owner of a silver Ford Focus which was seen near both hospitals on the night of the attempted thefts.
NHS Borders is carrying out a security review.
Related Internet Links
The BBC is not responsible for the content of external sites.