Penwhirn Reservoir dam raising plans drawn up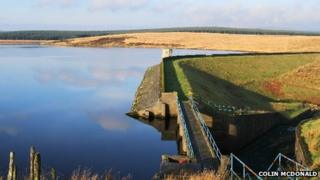 Plans are being drawn up to increase the size of a water reservoir supplying most of Wigtownshire.
Scottish Water said that raising the height of the dam at Penwhirn Reservoir by 1.5m (about 5ft) would increase its capacity by about 35%.
A public consultation event on the proposals is planned later this month.
Scottish Water said a similar scheme was also being considered for Black Esk reservoir, which supplies much of Dumfriesshire.
Concerns over stocks at both sites sparked plans for a drought order in the summer of 2010.
However, heavy rainfall saw the move shelved.
Now Scottish Water is holding a public drop-in event at Stranraer library on 22 November about its plans for Penwhirn.
Nigel Graham-Smith, asset planner for the Wigtownshire area, said: "This proposed work will enable Scottish Water to meet water supply demands in times of low rainfall by enhancing the amount of water the reservoir can hold."