Kirkconnel war memorial vandalised on Armistice Day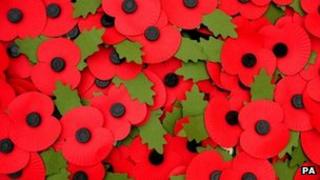 Police are investigating after a war memorial in southern Scotland was vandalised on Armistice Day.
The incident happened on Main Street in Kirkconnel some time before 01:30.
Police officers made the discovery while on patrol and tried to remove as much of the graffiti as possible.
A spokesman said they were following a "positive line of inquiry" but urged the public to help trace whoever was responsible for a "particularly distasteful and shameful crime".
The attack took place on the eve of remembrance events across the country.
The Royal British Legion Scotland (RBLS) was hoping for widespread observance of a two-minute silence at 11:00.
A police spokesman said the memorial had been daubed with paint in the attack.
"Given this poignant day where people are remembering the sacrifices made by others, the attending officers tried to undo the damage by removing as much of the graffiti as they could," he said.
"Swift investigatory work throughout the night has brought a positive line of inquiry and we are following it up as a priority.
"However, we have been appalled by the distasteful nature and shameful timing of this and we hope the community will support us in tracing who is responsible."
Dumfries and Galloway Council later confirmed it had completed the clean-up work started by the police.
A spokesman for the RBLS said the level of vandalism on war memorials in Scotland was low which made the incident "doubly shocking".
He described it as a "thoughtless act of disrespect" at a time when people were gathering in remembrance.