Parkgate shotgun thieves hunted by police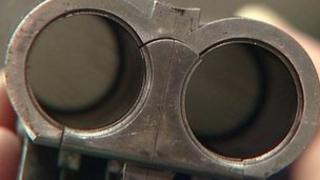 Police are investigating the theft of five shotguns and a rifle from a south of Scotland farm.
The incident happened some time between 10:00 on 10 November and 12:00 on Tuesday at Parkgate near Dumfries.
A designer handbag, a watch and cash were also taken, bringing the total value of the stolen goods to about £15,000.
Det Con Hayley Ross said police were keen to trace the guns before they fell into the "wrong hands".
"The guns were legally licensed to the owner who had them for legitimate purposes," she said.
"However, as anyone will know, they can be a dangerous weapon and should only be used by trained professionals who have legally applied for them.
"Thankfully gun incidents rarely happen in our region and this is partly down to secure policing and appropriate handling of them by their owners.
"We are resolute for this to continue."
Police are particularly keen to trace the occupants of a small van seen in the area on Monday morning.
Det Con Ross appealed to anyone with information about the incident to contact the police or the charity Crimestoppers as soon as possible.
"The combined total of all the property and cash stolen is undeniably significant and one would have to assume that the people who targeted this property knew there were items of worth inside," she added.
"This would suggest they may have been in the area before the incident."