Dumfries and Galloway debt figures reach record level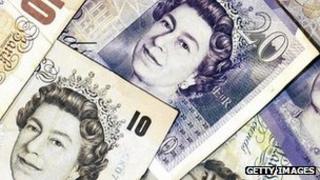 New figures from the Citizens Advice Service in Dumfries and Galloway have shown record levels of debt.
Its annual report has revealed that in the last 12 months the organisation helped nearly 1,300 clients who collectively owed almost £28m.
It is the highest figure the group has ever recorded and a rise of nearly £7m over the last three years.
Chief Executive Sue Irving urged those facing debt problems to seek help sooner rather than later.
"These figures show just how many local people are drowning in debt," she said.
"People's incomes just can't keep up with the rising cost of living, so people are turning to credit in order to get through the week, and that often means doorstep credit, loan sharks or pay-day loans.
"These may look attractive on TV ads but these short-term high-interest loans are a gateway to misery."
She said the problem was getting worse but the local Citizens Advice offices were "very proud" of the help they could offer.
"We don't have a magic wand unfortunately, and can't wish your debt away," said Ms Irving.
"But there are lots of things we can do to help you manage your debt.
"For example we can negotiate with your creditors on your behalf and often we can persuade them to freeze or reduce the interest."
She said they could also help with maximising income and working out repayment plans.
"But the best advice of all is don't get into debt in the first place," she added.
"We understand how difficult it is for people on low incomes and people are under particular pressure at this time of year - everyone wants to have enough money to have a good Christmas.
"But our message to local people is that they really need to avoid that temptation.
"Christmas on credit is not a good idea, and will just bring you misery in the New Year."