DONG Energy to explore Solway wind farm potential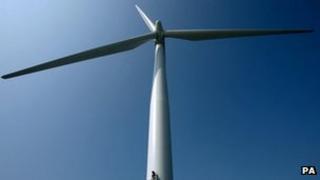 DONG Energy has reached agreement with the Crown Estate to examine wind farm potential in coastal waters off Dumfries and Galloway.
The firm will carry out a feasibility study in the Outer Solway over the next four months.
It said the potential site would be at least 8km from the shore and could generate power for 230,000 homes.
Politicians in the region have already voiced concerns about the prospect of turbines in the area.
The waters off south west Scotland were identified earlier this year in a report by Scottish government directorate, Marine Scotland Science, as a potential location.
There is already an offshore wind farm in the area at Robin Rigg.
Now DONG Energy said it was looking at an area south of Luce Bay and to the north of the Isle of Man.
It said it was at a "very early stage" in the process but pledged to consult widely about the plans.
Galloway and West Dumfries MSP Alex Fergusson has already vowed to start a "long campaign" against the proposals.
"It is not long since a campaign of public opposition resulted in the withdrawal of plans to install a wind farm in Wigtown Bay and another next to Robin Rigg," the Tory MSP said.
"It was a very hard fought campaign.
"This new step towards another, much larger, proposal will require an even greater effort if it is to be rejected - that effort starts now."