Countess of Wessex takes 200th Border Union Show role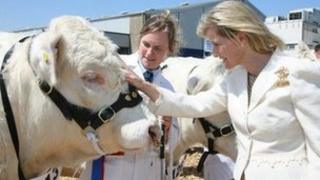 The Countess of Wessex has agreed to be a patron of the Border Union Agricultural Society (BUAS) as it prepares to celebrate its bicentenary.
The organisation was formed in Kelso in the Scottish Borders in January 1813.
A range of special events is planned for next year, culminating in the 200th agricultural show on 26 and 27 July.
BUAS bicentenary committee chairman Gareth Baird said the celebration would "mark past contributions" but also aim to "look forward to the future".
The society was formed in Kelso on 22 January 1813 when local dignitaries and farming lairds met at the town's Cross Keys Hotel.
It now has more than 1,000 members and is based in the town's Springwood Park, which it bought in 1953.
The bicentenary show will include a Food Fair featuring some of the UK's top chefs including Albert Roux and Andrew Fairlie.
'Agricultural heritage'
It will also stage a celebration of the region's wool heritage and a showcase of old and new methods of crop production.
A special cattle show involving as many UK breeds as possible and an exhibition showcasing the importance of the major rivers of the Borders will also feature.
Schools and further education colleges will be encouraged to participate in the celebration and a series of bursaries will be set up for young people working in the rural economies of the Scottish Borders and North Northumberland.
Mr Baird said: "We want to make the bicentenary a true Borders-wide occasion involving people from right across the region and paying fitting tribute to our area's important agricultural heritage."