Galloway Forest Park set for £4.5m recreation boost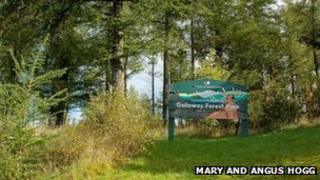 Forest and woodland recreation in south west Scotland is to be given a £4.5m boost by Forestry Commission Scotland.
It plans to invest the money at the Galloway Forest Park as part of a wider tourism strategy to double visitor spending in the local economy by 2015.
The funding will develop a new visitor complex at Kirroughtree, complete a major refit at Clatteringshaws and fund an upgrade at Glentrool's centre.
It follows a recent £300,000 investment in the park's walking trails.
The new facilities are due to be completed early in 2014.
The commission is to outline its plans for the park with key stakeholders and the community at Kirroughtree visitor centre this week.
Environment Minister Stewart Stevenson said: "The investment is a major commitment towards developing and supporting forest-based tourism in and around the Galloway Forest Park.
"The area has a fantastic reputation for its rugged outdoor landscapes and is a firm favourite for walkers, wildlife enthusiasts and mountain bikers.
"The commission's plan is to improve the visitor experience for everyone coming to Galloway Forest Park. This should be welcome news for visitors, the community and local businesses that rely on tourism."
Last month, work began on a dark sky observatory at the park.
The new facility, which has received £94,000 in funding from the Scottish government, will be used by schools, colleges and universities.
The Galloway Forest Park straddles the regions of East Ayrshire and Dumfries and Galloway.
It received Dark Sky Park recognition in 2009, and is the only such site in Britain.