Scottish Borders village phone boxes get new 'hub' role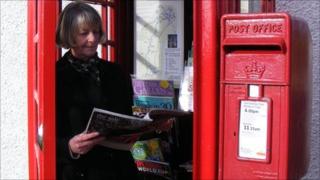 Residents in three Borders villages have given disused phone boxes a new lease of life by turning them into "community information hubs".
The kiosks in Crailing, Eckford and Nisbet near Jedburgh were declared surplus to requirements by BT.
However, they have now been adopted by their communities, repainted and solar power installed, in order be accessible 24 hours a day.
A wide array of contents has been put on offer.
There is information about local events, history and walking routes, for both locals and visitors alike.
There is also advice on environmental issues, a sales and swaps notice board to try to make the community more "green" and a selection of magazines.
The idea is that someone might take a leaflet or magazine, swapping it for one they have brought.
Funding for the project, which is an initiative of Crailing, Eckford and Nisbet Community Council, has come from the People's Postcode Trust.
Community councillor Sheila Campbell said the boxes had been deteriorating slowly and the scheme had restored them to their former glory, as well as allowing them to take on a useful new lease of life.