Alex Fergusson makes Solway cockle poacher action call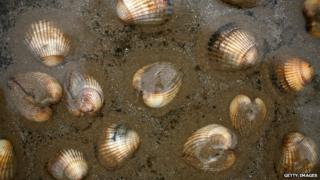 Galloway and West Dumfries MSP Alex Fergusson has called for action to stop "organised squads" cleaning out the cockle beds in the Solway.
He said he believed they were destroying what could be a "truly sustainable local industry".
An order is in place banning cockle fishing in the area but Mr Fergusson said poaching levels were high.
A Scottish government spokesman said it was being "proactive" on the issue and investigations were ongoing.
Dwindling cockle stocks forced closure of the fishery in 2002 but it reopened again four years later when a licensing system was introduced.
However, subject to very limited exceptions, no licences were issued from the end of the 2007/08 season and a full prohibition order was put in place last year.
Mr Fergusson said that was being ignored completely by gangs operating at a time when the cockles were breeding.
"Not only does this put uncertified and illegal cockles into the food chain, but it completely destroys any possibility of a mature cockle stock that might have been legitimately fished later in the year," he said.
"The police and Marine Scotland appear to be either unwilling or powerless to act, which I find astonishing.
"But my real concern is the damage that this illegal activity is doing to the prospect of building up a truly sustainable local industry."
He said a scientific study needed to be carried out to see if regulated harvesting of the cockles could be re-introduced.
"Such a study is prohibitively expensive - and so we end up simply going round in circles," he said.
Local interests
Mr Fergusson said a business could be run in the area based on artificially-seeded cockle beds, along with the natural stock.
"There are people willing to invest in it, and people with expertise willing to work in it, yet we do not appear to have a government willing to work with local interests to bring it about," he said.
"I have therefore taken the matter up, once again, with the Scottish government in an effort to achieve the potential that this form of aquaculture undoubtedly holds."
A spokesman for the Scottish government said it knew of the problems in the area.
"Marine Scotland Compliance is fully aware of the alleged illegal cockle picking in the Solway closed area and has been proactive to address the issue, with regular patrols carried out by Marine Scotland officers this year," he said.
"We have also briefed police officers on the evidence we require to pursue a fisheries' prosecution, to help the police plan suitable complementary activities.
"As a result of these actions, a number of individuals found in the area have been questioned regarding their activities and reports have been submitted to Marine Scotland Compliance."
He added that those investigations were ongoing.