Torthorwald tractor accident wrecks cars outside garage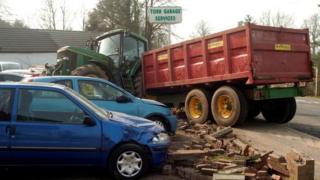 Seven cars were written off and six damaged after a tractor and trailer ploughed into a garage forecourt.
The incident happened in the village of Torthorwald near Dumfries on Saturday.
The tractor and trailer mounted the pavement, demolished a brick wall and ran over the cars - ending up on the roof of some of them.
Robert Murray, a partner at Torr Garage where the accident occurred, estimated that the damage to its vehicles would run to more than £30,000.
"I was standing only yards from where the tractor crashed and I shouted to the other lads to help the tractor driver and I called the emergency services," he said.
"I saw the tractor run over two cars and then hit the others.
"We're counting the cost and we've seven written off and six others were damaged."
He said local residents had been calling for a by-pass for the village which sits on the A709 Dumfries to Lockerbie road.
Mr Murray's father, Graham, who is also a partner in the business, added: "It's a miracle no-one was walking past or coming in to look at the cars.
"Normally there are a few people about but we had just opened.
"We just heard a tremendous banging and saw the tractor coming over.
"We don't know what happened but the driver is alright although he was shocked like everyone else."
He said it was the third time there had been a crash at the garage.
Dumfries and Galloway Constabulary said it was investigating the accident.
A spokesman said: "Heavy breakdown vehicles had to be brought in to clear the debris and the road was closed for some time."