Borders to Edinburgh rail reopening 'one step closer'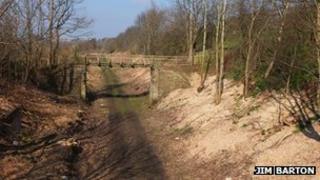 A £2m contract has been awarded to further develop designs for the reopening of the rail route between the Scottish Borders and Edinburgh.
Network Rail said the deal with BAM Nuttall brought the multi-million pound project "one step closer".
It is hoped the scheme will be completed with trains running between the capital and Tweedbank by late 2014.
The tender process for the project was scrapped last year after two out of three bidders pulled out.
Network Rail has now been asked to deliver the £295m scheme.
Its latest deal with BAM Nuttall is to further develop designs of the railway route including bridges, tunnels and stations.
A total of seven new stations are planned along the 35-mile route.