Haugh of Urr 'armed man' rumour dismissed by police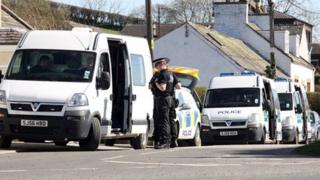 Police have dismissed rumours that a man reported missing following a "domestic incident" in a south of Scotland village is armed.
They are searching an area of open ground to the north of Haugh of Urr near Castle Douglas.
A spokesman said they were aware of rumours in the area that the man was armed, but said it was now clear that this was not the case.
He said there was no risk to the public and schools in the area remained open.
Officers from Dumfries and Galloway Constabulary were called out following an incident in the village's Port Road in which a 32-year-old local man was "clearly distressed and in need of assistance".
The area surrounding the house was sealed off for a short while until it was confirmed that the man in question was no longer there and had left the scene.
Nobody was hurt in what was described as a "domestic incident".
Police said armed officers were called to the scene "purely as a precautionary measure" to ensure the safety of the neighbouring members of the public, police officers in attendance and the man himself.
Officers managed to make early negotiations with the man by mobile telephone however he soon switched the phone off and contact was lost.
Supt Gary Small said: "It is stressed from the outset that the man is no danger to the wider public.
"He was in a distressed state and we are concerned for his own well being.
"The man has not got access to any firearms and the armed officers were there as it is routine process for them to attend whenever there is any possibility of danger to life to anyone involved in an incident.
"With the man being distressed we could not rule this out to all parties concerned."
He said armed officers had been stood down "once it became clear that the man did not have any weapons on his person".
He added that they were still keen to trace the man and would like to speak to witnesses who may have seen anyone acting suspiciously in the area at about 10:00.