More than 150 candidates for South of Scotland council elections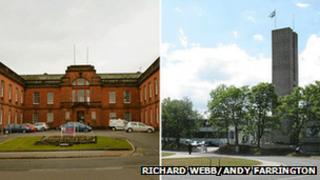 More than 150 candidates are standing in the council elections in Dumfries and Galloway and the Scottish Borders.
Nominations for candidates for the local government poll on 3 May closed on Thursday.
In Dumfries and Galloway, a total of 82 contenders have put their names forward for the 47 seats on the council.
In the neighbouring Scottish Borders, some 72 candidates will battle it out for the 34 places available with the local authority.
The Conservatives are fielding the most candidates in Dumfries and Galloway with 24.
Labour has 20 candidates and the SNP 14, while there are 11 independents, five Liberal Democrats, three Green Party candidates, two for UKIP and three without an identified political affiliation.
The Conservatives also have most candidates in the Borders, fielding 14 in total.
There are 12 Lib Dems, 12 SNP, 11 from the Borders Party, eight Labour and two Green Party contenders, along with 13 independents.