Dumfries and Galloway livestock rustling on the rise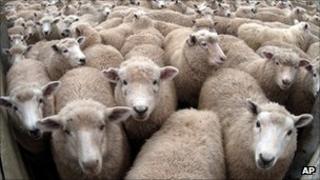 Police in south west Scotland have warned that the centuries-old crime of livestock rustling is on the increase.
It has been estimated it costs Scottish agriculture more than £250,000 a year.
There are fears that the meat then enters the food chain without regard to hygiene, and that the animals suffer a painful death at unlawful abattoirs.
A number of incidents have been reported recently in Dumfries and Galloway including one at a farm near Gretna belonging to Buccleuch Estates.
Another raid occurred at Annandale Estate land north of Dumfries.
Pc Alistair Mitchell of Dumfries and Galloway Constabulary said the livestock was usually "taken to order".
He said the thieves hoped to take advantage of the remote and rural nature of some farms and move about undetected.
The animals can then be taken to illegal abattoirs and the meat sold on to restaurants or takeaways or anywhere willing to "pay a cheap price".
A full report on the issue is on BBC Radio Scotland's Out of Doors programme at 06:30 on Saturday, 7 April.