Scottish Borders rugby tournament drunkenness plea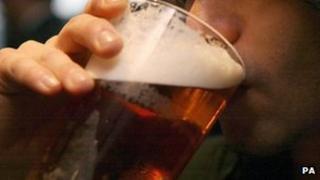 People heading to Borders rugby sevens events and summer festivals have been urged to realise getting drunk is not a "prerequisite to having a good time".
During the months of April and May the sporting competitions take place in towns across the region.
They are followed in the summer by historic "common riding" celebrations.
A working group has said people should enjoy all the events but encouraged them to "drink responsibly and consider the effects of drinking too much".
The appeal comes from the the local alcohol and drugs partnership, Lothian and Borders Police and Scottish Borders Council (SBC).
They said excessive drinking had an impact on the individual and on local communities and could lead to a variety of measures being needed to tackle "alcohol-related harm".
Among the problems they linked to people who drink too much were house fires, violence, drinking and driving, anti-social behaviour and underperformance at work.
Paul Richardson, of SBC's safer communities, said: "Getting drunk should not be a prerequisite to having a good time.
"We are tackling drug and alcohol problems at a local level involving the statutory, voluntary and private sectors and engaging in the wider community."
That work is part of the Scottish government's alcohol strategy which has estimated that the cost of problems caused by alcohol consumption is £3.56bn-a-year - about £900 for every adult in the country.
Communities in the Borders will be provided with information on how to drink more responsibly through posters which will be displayed in licensed premises during the rugby tournaments and summer festivals.
Information on the risks of "legal highs" and access to further information on how to stay safe will also be available.
NHS Borders joint director of public health Dr Eric Baijal said: "It is hard to understand how, when we are celebrating the health and fitness of our local rugby players, there is such a tendency to be irresponsible with alcohol.
"I urge the community to drink responsibly to ensure their immediate health and help improve their well-being in the future".
The initiative is being supported by Melrose Rugby Football Club which has its sevens event this weekend.
A spokesman said: "Melrose RFC is pleased to support the campaign for responsible drinking.
"The success of the Melrose Sevens relies in part on the goodwill and understanding of the local community and it's important to us that our community remains safe.
"We hope that everyone enjoys this year's tournament in a responsible way."