Scottish Borders key property plan goals drawn up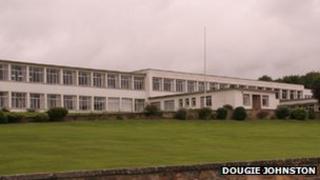 Scottish Borders Council has agreed a set of planning "briefs" for a number of prominent buildings and land across the region.
The proposals will now be the subject of consultation over the next three months.
One of the locations involved is the site of the former Royal Hotel in Stow which has now been demolished.
Councillors agreed they would like to see any new buildings on the land make use of materials from the old hotel.
A draft planning brief has also been agreed for the site of the current primary school in Duns.
It will become available in a few years when the primary school is relocated into part of the former Berwickshire High School building.
The old primary site should, the brief recommends, be used for a variety of housing types with the overall area capable of accommodating up to 45 houses.
It also advises that a stone frontage facing onto Langtongate should be retained if at all possible.
Other planning briefs going out for consultation include sites at Renwick Gardens and West Renwick Gardens in Morebattle and Todlaw playing fields in Duns.