South of Scotland phone scam warnings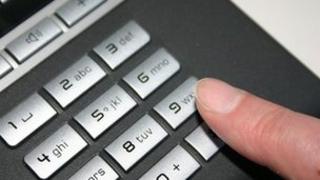 Police in Dumfries and Galloway and the Borders have warned the public about a fresh spate of phone scam attempts.
In one incident an elderly woman in Garlieston was called five times in 15 minutes by a man claiming he could recover her bank charges.
In the Borders a number of people have been phoned by a company claiming to offer computer support.
Anyone receiving a suspicious call has been urged to get as many details as possible and pass them to police.
Dumfries and Galloway Constabulary said it had received a "particularly high number of bogus call reports" on Wednesday.
As well as the woman in Garlieston, individuals in Stranraer and Thornhill were also targeted.
Ch Insp Irvine Watson said: "We are pleased that no one fell for these scam calls, but sadly acknowledge that in the past some people have.
"I congratulate all these people who handled these calls in the right manner - by simply not entertaining them.
"It was also useful that some people had family members nearby to assist."
Cold calling
He urged anyone subjected to "high pressure" selling techniques to simply hang up immediately.
"Threatening or abusive calls are a crime and if we can trace the people responsible they will be reported," he said.
In the Borders, a number of complaints have been received about the computer support scam.
Lothian and Borders Police said a company calling itself Microsoft Technical Support had previously been cold calling people across the region asking if they wanted to purchase remote support of their computer system.
Now officers have been contacted by a member of the public from the Kelso area, who has received a similar call from a company calling themselves 24/7 PC Care.
Police advised the public not to give out credit or debit card details to people they do not know.