Kingholm Quay mud rescues spark public safety appeal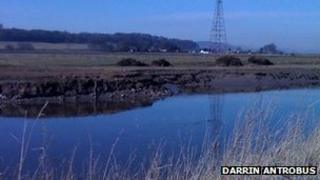 The fire service has urged people to take extra care when walking near rivers after rescuing two people stuck in mud in the space of 24 hours.
A man, a woman and a dog had to be pulled from marsh land near Kingholm Quay, south of Dumfries, in incidents on Wednesday and Thursday morning.
Nobody was injured but a fire service statement said the incidents could have been "much more serious".
It advised people to avoid areas of sand close to the low water line.
The statement from Dumfries and Galloway Fire and Rescue Service said it wanted to "remind everyone of the dangers around our shores and waterways".
"Moving tides and flowing water can cause sandbanks to become unstable and dangerous mud flats to form," it said.
"It is best to avoid areas of sand close to the low water line as there may be mud in the area.
"Also beaches with water flowing into them, from rivers, streams or storm drains, can also contain areas of mud.
"Estuaries and docks are also areas where mud is often found."
DGFRS also issued advice for anyone who finds themselves stuck in mud.
It said they should call 999 and ask for the Coastguard or shout and wave to try to attract someone nearby's attention.
"Try and stay calm because if you panic and move around excessively you may sink further," the statement added.
"Let go of anything heavy and spread your weight by sitting down if possible.
"If you come across someone stuck in the mud you should raise the alarm straight away by calling 999 and avoid entering the mud as you may also become stuck."