Joint Warrior military exercise under way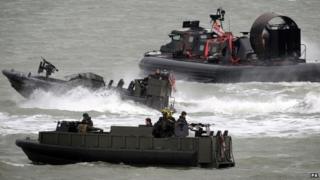 A major military exercise involving troops from across Europe and North America is getting under way on the west coast of Scotland.
Joint Warrior will see warships, submarines and aircraft involved over the two-week operation.
It is starting with an air assault exercise to secure an airfield at West Freugh near Stranraer.
Once it has landed, a task force will defend the base and carry out further aerial attacks on an "enemy force".
The exercise is held twice a year to prepare forces from the UK, US, Denmark, Norway, France, Canada, Germany and the Netherlands for events and active service.
It is aimed at creating a task group capable of being deployed to worldwide incidents such as last year's conflict in Libya, as well as testing the ability of the Armed Forces to cope with events such as a terrorist attack on the Olympics.
The air assault exercise at West Freugh will involve more than 1,600 troops, and be supported by Apache, Chinook and Sea King from the Joint Helicopter Force.
A total of 8,000 Royal Navy personnel on board 30 vessels are also taking part in the Joint Warrior exercise.