Park Primary clean-up finds used needle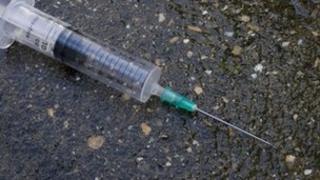 A used needle and syringe "heavily contaminated" with blood were discovered while about 100 children took part in a community litter-pick.
They were found near Park Primary School in Stranraer.
The discovery came during an annual litter-pick organised by Keep Scotland Beautiful as part of its National Spring Clean campaign.
Police said the incident was "very concerning" and urged anyone using needles to dispose of them safely.
Dumfries and Galloway Constabulary said about 100 children and 50 adults had been taking part in the clean-up earlier this month when the items were discovered.
A community engagement worker and a local warden found them and they were disposed of safely.
'Totally unacceptable'
Community safety constable Siobhan Pellet said: "We would like to ask those people who do use needles to take care using them and to make sure that they dispose of them safely and in the appropriate manner.
"It is totally unacceptable that they are left lying where children can find them.
"The dangers of injury and infection through needle stick injuries are horrendous.
"It must be reiterated that if you see a needle or syringe lying in the street do not touch it but report it so it can be safely removed."