Clovenfords school completes move from Caddonfoot site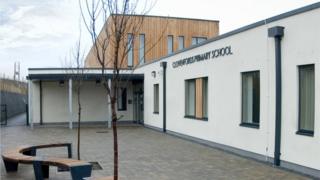 Pupils in the Borders village of Clovenfords have celebrated the first day of lessons at their brand new primary school.
Before the Easter break children from the area were educated at Caddonfoot Primary, about a mile from the heart of the village.
Now the historic but cramped Victorian-era buildings are a thing of the past with the move to a state-of-the-art £6m school which offers facilities the older site could not.
Head teacher Alison Sutherland is overjoyed, for instance, to have a room she can call her own.
The new school also has its own games/assembly hall, a dining and kitchen area and dedicated library space.
Pupils at Clovenfords are delighted with the new building, especially with the fact they will no longer have to leave school premises simply to take part in a PE lesson.
They are also very impressed with the light and airy classrooms and the sheer amount of space compared with Caddonfoot.
But they are aware too of the break with history - the old buildings had housed generations of pupils dating back to 1875 - including, for some current Clovenfords youngsters, older brothers and sisters, or even parents and grandparents.
Clovenfords has been a growing community and the new school is designed to cater for current and future growth, with a capacity of 125 compared with just under 80 at the former building.
Further school projects are also in the pipeline in the Borders.
A new primary school for West Linton should be ready at some point next year and, looking further ahead, a project to refurbish the old Berwickshire High School for use by Duns Primary is in the capital programme.