Dalbeattie man Stephen Maxwell guilty of tax evasion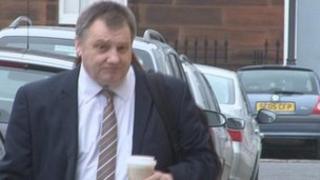 A man accused of avoiding tax and national insurance contributions totalling more than £600,000 has been found guilty by a jury.
Stephen Maxwell, 53, of Dalbeattie, had denied committing the offence between April 1999 and May 2008.
He was found guilty by a jury following a six-week trial at Kirkcudbright Sheriff Court.
He was remanded in custody until 26 April for the preparation of background reports.
During the trial the jury was told that Maxwell, an information technology consultant, used offshore companies to conceal his income which was said to be up to £800-a-day.
He had been charged along with his wife, Susan Maxwell, 49, but she was cleared during the court case.
The amount involved in the case was also reduced during the trial.
He had originally been charged with avoiding paying contributions of nearly £1.75m but that was reduced to a little more than £635,000.