Joint Warrior flare started West Freugh fire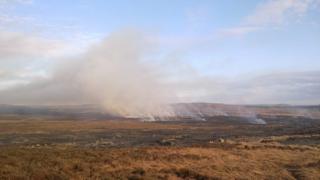 A flare fired as part of a military training operation accidentally started a wild fire in the south of Scotland, it has emerged.
It broke out on Monday at the same time as emergency services were tackling a hillside blaze nearby in Wigtownshire.
Exercise Joint Warrior is currently taking place nearby involving hundreds of troops from Europe and the US.
The fire service said "accidental ignition" from a flare had caused the fire at the West Freugh air base.
Dumfries and Galloway Fire and Rescue Service was already dealing with a similar blaze near Mochrum when it was called to the Ministry of Defence training ground.
Firefighters were faced with a "fast moving rough grass and gorse fire being fanned by strong winds".
They were assisted by an RAF fire unit as well as RAF and army personnel from 3 Para regiment who were at the base as part of Joint Warrior.
They worked together using fire beaters and hose jets for six hours to bring the fire under control.
An area of approximately two hectares was destroyed by fire but there were no injuries, no-one was evacuated from their home and the fire was prevented from entering a large area of woodland.
A DGFRS spokesman said: "This was a very challenging situation, compounded by the fact that the fire and rescue service was dealing with another large wild fire in Wigtownshire at the same time.
"Fire service and military personnel worked well together to bring this blaze under control."