Scissor Sisters and Texas headline Wickerman Festival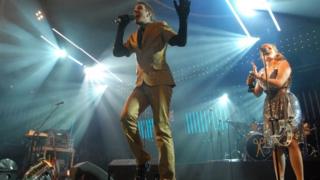 American band Scissor Sisters have been unveiled as one of the headline acts for this year's Wickerman Festival.
They will share top billing on the main stage at the Dumfries and Galloway event with the Scots band Texas.
Festival organisers promised an "eclectic mix of established, emerging and retro artists".
The event is on 20 and 21 July at East Kirkcarswell Farm near Kirkcudbright and will conclude with its traditional burning of a giant Wickerman.
The festival, now in its 11th year, will also see performances by the likes of The View, Levellers, Cast and Newton Faulkner.
Wickerman co-ordinator Helen Chalmers said the line-up would "deliver some fantastic performances across the two days of the festival".
She described it as "two days of fantastic music for all tastes and ages, all blended with our relaxed, fun, friendly festival atmosphere".
'Great hype'
Scissor Sisters frontman Jake Shears said he was excited to be playing at the festival.
"The UK has always been our spiritual home, and Scotland has especially proven to be some of the best audiences we have ever experienced," he said.
"With all the great hype we have heard about Wickerman, it is sure to be a great show".
Texas lead singer Sharleen Spiteri said Wickerman would be the band's only Scottish festival of the summer.
"It will be a first for Texas but we've heard so much about the great festival atmosphere and friendly Wickerman crowds and we'll be making it a show to remember with a mix of our classic hits and some new material," she said.
"We look forward to seeing our fans there for a great weekend."