Cruden secures unfinished R&D house building contract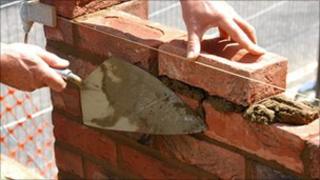 A Glasgow firm has secured a £15m building contract left unfinished in Dumfries and Stranraer after the collapse of a construction company.
Dumfries and Galloway Housing Partnership (DGHP) has agreed a deal with Cruden Building and Renewals Ltd.
The regeneration project stalled when Dumfries-based R&D Construction went into administration last year.
DGHP chairman Billy Lockhart said he was delighted the deal had been done, meaning works could start "imminently".
He said it had taken some time to agree the deal due to procurement regulations.
However, he said he believed it would be a boost for the region.
Mr Lockhart said: "Cruden is committed to work with DGHP to identify opportunities and we will work with them to attempt to employ as many local workers as possible for the project, which will be a substantial injection of work for the construction industry at this time."
'Employment opportunities'
CBRL managing director Allan Callaghan said he was aware of how the demise of R&D had affected local construction employment prospects.
"We will work with DGHP and fellow stakeholders to endeavour to provide as many employment opportunities as possible for skilled tradesmen local to the sites and do what we can to support local suppliers and sub-contractors where possible," he said.
James Shirazi, director of investment with DGHP, said that due to procurement regulations, the process been "much lengthier" than they had hoped.
He added that they were pleased to have secured a new contractor and looked forward to working with them.
"The contract will see the completion of 150 houses over a two-year period and will bring the conclusion of almost 400 new houses in the regeneration programme," he said.
"We expect Cruden to be on-site very soon."