Scottish Borders rugby sevens drinking plea heeded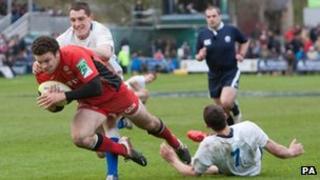 Police have said they were pleased with public behaviour following a plea to drink responsibly at Borders rugby sevens events and summer festivals.
It follows the latest tournament in Melrose at the weekend.
Lothian and Borders Police said there were "no issues" for them to deal with at the competition, which was won by English side Saracens.
A spokesman said "everyone appeared to have had a very enjoyable day" throughout the event.
The police, Scottish Borders Council and the local alcohol and drugs partnership had appealed to people attending the rugby sevens series not to see getting drunk as a "prerequisite to having a good time".
Among the problems they linked to people drinking too much were house fires, violence, drinking and driving and anti-social behaviour.
However, there were no significant problems reported at Saturday's competition in Melrose.
The rugby sevens moves on to Hawick this weekend with another seven competitions after that across southern Scotland.