Galloway rescue mission finds walkers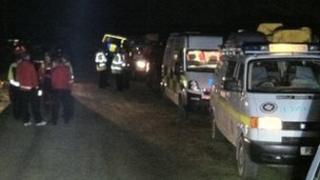 Two walkers have been found safe and well after a rescue mission in thick forest land near Gatehouse of Fleet.
Galloway Mountain Rescue Team was called out to the incident at 21:45 on Wednesday.
Dumfries and Galloway Constabulary had initially been contacted by the two men - aged 18 and 20 - who had become disorientated and got lost.
Sixteen rescue team members worked with local police and traced the pair in the early hours of Thursday.
Mike McCann, team leader of Galloway MRT, said: "They were totally lost, cold and pleased to see us."